Key points:
The economic cycle will become more volatile weighing on equity multiples.
There is a disconnect between very weak sentiment and optimistic earnings forecasts. US earnings have only just entered a downgrade cycle and the real forward multiple is closer to 21x earnings.
Investment in decarbonisation, re-shoring and infrastructure will see a normalisation in tangible capex cycles; Antipodes is positioning ahead of this change.
Taiwan Semiconductor Manufacturing (TSMC), a technology leader, with near-monopoly status, is a great way to play re-shoring (a summary of the investment case is provided in this newsletter's stock in focus).
Valuations and a 'tangible' investment cycle are Antipodes' two key trends to watch in 2023.
Valuations matter
As we move into the new year, we have the US Federal Reserve trying to stick the perfect landing, Europe teetering on the edge of recession and China managing its exit out of COVID-zero – the new era of fiscal activism will drive greater volatility in the economic cycle, weighing on equity multiples.
Valuations are more important than ever.
Money supply growth has meaningfully slowed in the US, partly due to a cessation of post COVID stimulus, quantitative tightening and higher rates. Our analysis suggests conditions in the US are tight enough – the Fed has largely accomplished its goal. The question is what the Fed will do from here. Inflation is falling but it remains elevated, and the Fed is focused on the tight labour market. Unemployment remains near record lows and with almost two job openings for every unemployed person, the Fed is concerned about pausing prematurely.
The goldilocks scenario – where inflation continues to fall while unemployment normalises gradually – is possible, but it won't be easy to pull off. Unemployment is a trailing indicator. Employers typically reduce their labour force as a last resort after profits have been impacted by slowing conditions.
Managing policy while focusing on unemployment is akin to the Fed driving while looking in the rear-view mirror. The risk of the Fed over-tightening and dragging the US economy into a deeper recession is rising, and this is not priced into US equities.
Consider this – what is the underlying multiple of the US equity market today?
The average starting valuation of US equities today is 18x forward earnings. However, US earnings forecasts for the next 12 months (NTM) have fallen just 4% from the recent peak, with current analyst forecasts still implying next year's earnings will remain flat compared to this year's earnings.  Hence, there's a major disconnect between negative sentiment/top-down macro pessimism and optimistic bottom-up earnings forecasts.
Using prior recessions as a guide, earnings forecasts in the US could fall another 10-15%. If you account for this, the starting valuation of US equities is closer to 21x forward earnings (NTM basis) – a 30% premium to the historical average. The US valuation premium continues to linger.
Unlike the US, earnings forecasts in Europe and China are further into the downgrade cycle.
In Europe, earnings estimates have fallen 13% versus 18% in prior cycles. Assuming downgrades are in-line with historical trends, Europe is priced at just 13x forward earnings – on par with its historical average.
The results are even more attractive in China. Earnings estimates across "China all" (Chinese businesses listed in China, Hong Kong and the US) have fallen 12%, which is already in-line with prior cycles. At 15x forward earnings, "China all" is priced at a 10% discount to historical valuations. But where it gets even more interesting is isolating Chinese companies listed in Hong Kong and the US (using the MSCI China as a proxy). These stocks have seen earnings estimates steadily decline c. 16% over the last two years as foreign sentiment towards China has been particularly weak. This compares to just 6% in a typical earnings downgrade cycle. At 10x forward earnings, foreign listed Chinese businesses are priced at a 30% discount relative to their history.
While the economic outlook appears incrementally worse in the US, it appears incrementally better in Europe and China. The worst of Europe's energy crisis has passed, China is re-opening and stimulus has accelerated. Both economies can grow from 2022's low base.
Valuations matter, and especially so in times of economic uncertainty.
In the current backdrop it's also critical to focus on resilient businesses that can take profitable market share against an environment of higher inflation, and which are relatively better positioned to weather tougher economic conditions. What that means in practise is Antipodes will go anywhere in the world to buy the best stocks at the right valuation.
Out with the new and in with the old
Along with valuations, the other key theme to watch in 2023 is tangible capex cycles.
Tangible investment refers to investment in physical assets (broadly property, plant and equipment) while intangible investment refers to spending on information technology/software and intellectual property.
As Figure 1 shows, tangible investment in the US has fallen from 72% of the total non-residential fixed asset investment mix in 1980 to 50% at the end of last year while intangible investment has increased from 28% to 50%. Globalisation saw developed world manufacturing investment shift to China, while recent investment cycles centred around the digitisation of the enterprise/cloud, e-commerce and social media/streaming.
Figure 1: Gross non-residential fixed asset investment mix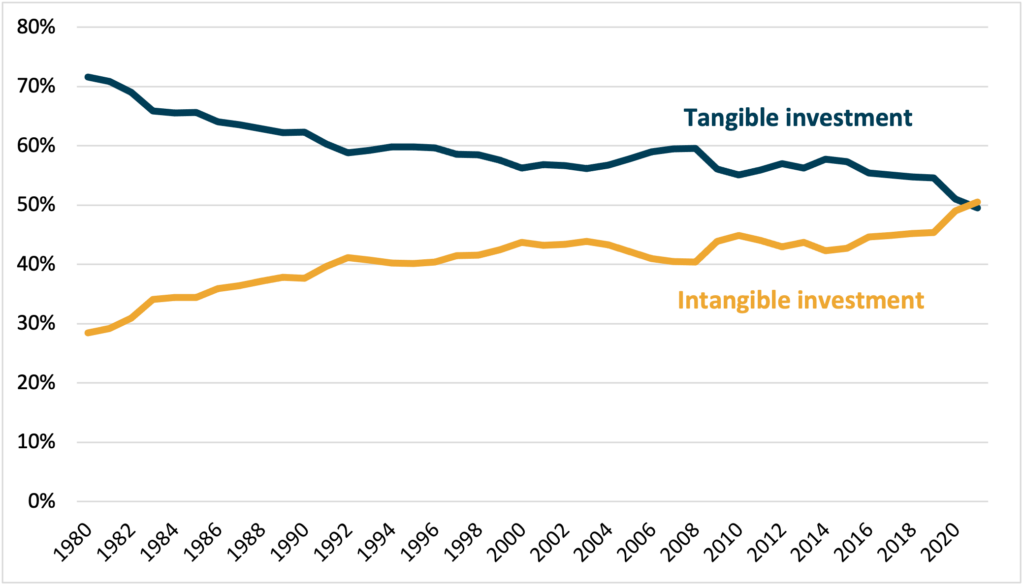 Today, however, policy makers are leaning on fiscal stimulus to support economic activity and the focus is decarbonisation, supply chain re-shoring, and infrastructure. So, while big cap tech has meaningfully underperformed this year (NASDAQ is currently down 31% while the MSCI ACWI has fallen 20% in USD) this trend can continue as these new investment cycles benefit tangible investment (broadly industrial/cyclical stocks) as opposed to intangible investment (tech stocks). We want to be positioned ahead of this change in investment/capex mix.
For example, to meet climate goals the developed world needs to make incremental investment of around 2 – 3% of GDP p.a. for the next decade at least. Biden's Inflation Reduction Act shows the US is pushing forward. It supports c. $370b worth of investment in energy security and climate change, stimulating both demand via tax credits to encourage investment as well as supply via tax credits to subsidise local production and support cost competitiveness. Within this there is c. $90b dedicated towards re-shoring solar, wind and battery production in the US.
Re-shoring and near-shoring will become a greater focus of the developed world. China will not and cannot be cut out of supply chains as the cost advantage and established business and linkages are too strong. There will, however, be some diversification. We expect governments will focus on re-shoring the critical elements of supply chains e.g. semiconductor chips, precursor battery materials and pharmaceutical ingredients to reduce geopolitical vulnerability. The CHIPS Act in the US, designed to increase production of critical semiconductors in the US, is a good example of this.
Now is the time to position portfolios ahead of this shift. Antipodes has c. 30% of its global portfolios exposed to energy transition, which encompasses conventional energy with a focus on gas (a prolonged period of underinvestment in oil and gas to below maintenance capex levels will keep energy markets tighter than the market expects), materials, industrials (enablers of lower carbon emissions) and energy infrastructure, along with connectivity/compute, with a focus on digital infrastructure.
In our latest podcast episode, to be released in the coming days, we'll have more sector-specific insights into what we're watching in the year ahead. Subscribe on Apple, Google or Spotify.
Stock in focus | Taiwan Semiconductor Manufacturing Company (TSMC)*
TSMC manufactures chips for semiconductor companies globally with near-monopoly status at the 'leading-edge', that is the most advanced chips. It's technical leadership and shift in business mix towards high performance compute/datacentres can see lower volatility around revenue and structurally higher profitability over the long-term.
The US and China are both dependent on TSMC for leading-edge technology, and with TSMC's leading-edge capacity still almost exclusively in Taiwan, the US and China are critically aligned in maintaining a stable Taiwan for the sake of their economic sustainability.
Further, the US Government and its US customer base are actively incentivising TSMC to build 'local' capacity. Given its near monopoly position, no credible Western world semiconductor 'reshoring' plan can be put into place without the support of TSMC.
At 13x forward earnings, TSMC is attractively priced given the quality of its business and is a great way to get exposure to emerging investment cycles around re-shoring and the increasingly connected world we are living in.
Finally, we wish you all a safe and happy holiday period and look forward to sharing more market insights with you in the coming year.
By the Antipodes Investment Team
*Illustrative only and not a recommendation to buy or sell any particular security
---
IMPORTANT INFORMATION:
All content in respect of the Antipodes Global Shares (Quoted Managed Fund) (ARSN 625 560 269), the Antipodes Global Fund – Long (ARSN 118 075 764), the Antipodes Global Fund (ARSN 087 719 515), and the Antipodes Asia Fund (ARSN 096 451 393) is issued by Pinnacle Fund Services Limited ABN 29 082 494 371 AFSL 238 371 ("PFSL") as responsible entity of the Funds and is prepared by Antipodes Partners Limited (ABN 29 602 042 035) (AFSL 481580) ("Antipodes") as the investment manager of the Trust. PFSL is not licensed to provide financial product advice.
The information provided is of a general nature only and has been prepared without taking into account your objectives, financial situation or needs. Before making an investment decision in respect of the Funds, you should consider the current Product Disclosure Statement ('PDS') and Target Market Determination ('TMD') of the Funds and the Fund's other periodic and continuous disclosure announcements lodged with the ASX, which are available at www.asx.com.au, and assess whether the Fund is appropriate given your objectives, financial situation or needs. If you require advice that takes into account your personal circumstances, you should consult a licensed or authorised financial adviser. The Product Disclosure Statement ('PDS') and Target Market Determination ('TMD') of the relevant Fund are available via below links. Any potential investor should consider the PDS and TMD before deciding whether to acquire, or continue to hold units in, the Fund.
Links to Product Disclosure Statement: IOF0045AU, WHT0057AU, IOF0203AU, WHT3997AU
Links to Target Market Determination: IOF0045AU, WHT0057AU, IOF0203AU, WHT3997AU
For historic TMD's please contact Pinnacle client service Phone 1300 010 311 or Email service@pinnacleinvestment.com
Neither PFSL nor Antipodes guarantees repayment of capital or any particular rate of return from the Funds. Neither PFSL nor Antipodes gives any representation or warranty as to the currency, reliability, completeness or accuracy of the information contained in this content. All opinions and estimates included in this website constitute judgments of Antipodes as at the date of website creation and are subject to change without notice. Past performance is not a reliable indicator of future performance.